LDR
Lutheran Disaster Response of Upstate New York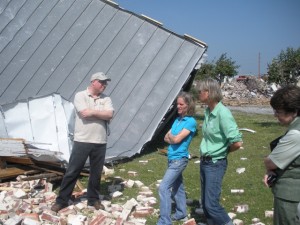 Rev. Kevin Massey, Program Director of Lutheran Disaster Response, and Associate Program Director Mike Nevergall, spent time this week in Alabama, assessing damage from the recent tornadoes and meeting with local Lutherans about the response to come.  Check out this field report for stories and pictures from the trip. more

Dear sisters and brothers in Christ,
An outbreak of severe spring storms has wreaked havoc across the southern United States. ELCA Disaster Response is already at work with local Lutheran congregations and the Southeastern Synod staff to assess what is needed. Only one ELCA congregation is reported to have severe damage from a tornado. Please keep in your prayers Pastor Sandy Niiler and the people of Christ Lutheran in Cullman, Alabama.
This is one of several severe storms this spring. Communities across the Midwest have been fighting back flood waters. A dam in southeastern Missouri was overwhelmed earlier this week, flooding more than 100 homes. In recent weeks, tornadoes were responsible for widespread damage in Missouri and the Carolinas.

The ELCA stands ready to respond in all areas affected. Our congregations are experts at serving in their communities—when and where it is needed most. Our first and best response to all disasters is prayer. Please pray for all those affected by these terrible storms.
Contributions can be made to ELCA Disaster Response designated for "U.S. Severe Storms." All designated gifts will be used entirely (100 percent) in response to these disasters. These gifts will help families whose lives and livelihoods have been disrupted by these natural disasters. Thank you for your gifts and prayers!
Sincerely,

The Rev. Daniel Rift
Director, ELCA World Hunger and Disaster Appeal
As another record-breaking winter storm unfolds, it is a perfect time to consider your level of disaster readiness.  We all share the responsibility to be READY for any type of disaster that could effect us, our families, and our communities.  The steps are quick and easy, and being READY can provide you with peace of mind, no matter the situation.  Go to www.ldr.org/ready, and get yourself and your family READY today!

It's also time to start planning for spring floods.  Record snows this winter combined with an unusually wet autumn have forecasters calling for a serious threat of flooding this spring.  If you live in a flood-prone area, you might be eligible for flood insurance through the National Flood Insurance Program.  These policies take 30 days from the date of purchase to take effect, which means that if you live in an area that could potentially flood, you should apply today.  For more information, visit www.floodsmart.gov.

Most importantly, remember in your prayers all those who will be exposed to the snow, ice, wind, and cold in the coming days, especially those who are homeless and seeking shelter, and the first responders who will be serving anyone in need.

To receive timely updates about unfolding disaster responses, volunteer opportunities, and information about resources for disaster survivors, follow us on Facebook by going to www.facebook.com/LutheranDisasterResponse and clicking the "Like" button.
Lutheran Disaster Response encourages disaster preparedness training.  Community Emergency Response Team (CERT) training is one opportunity and is being offered in two western NY counties.  Lancaster County training will begin on January 13 and Steuben County training will begin on January 4.  Pre-registration is required.
GULF COAST VOLUNTEER OPPORTUNITIES October 2010
Please remember this information changes as recovery progresses. Call for updates.
LOUISIANA
St. Bernard Project
8324 Parc Place
Chalmette, LA 70043
Phone: 504-277-6831
www.stbernardproject.org
Volunteer Inquiries- volunteer@stbernardproject.org
On the first work day, volunteers participate in orientation at the St. Bernard Project office, learn about the Project, receive volunteer assignments, and get directions to the work site.
You are responsible for your housing and meals.
Housing is available at Camp Hope 3, 1914 Aycock Street, Arabi, LA 70032
Phone: 504-355-4442, http://camphope.toolsfororgs.com.
Camp Hope has 300 beds in dormitory-style rooms.  Cost is $150 per person, per week. Rate includes three meals a day and access to all Camp Hope activities and programs. Camp Hope has no age restrictions, however many other organizations have restricted age policies for their work-sites.
Other housing options are listed on the St. Bernard Project web site and costs vary.
St. Bernard Project requires a parent or guardian signature on the volunteer participant liability release form of anyone under 18.
Camp Restore – RAI Ministries (Recovery Assistance, Inc.)
9301 Chef Menteur Highway
New Orleans, LA 70127
Toll-Free Phone Number: 1-888-248-2636
Phone: 504-242-2636
www.raiministries.org
Construction and non-construction opportunities are available for groups.
Camp Restore can accommodate up to 150 volunteers per week.
Cost – $35 per person per night to help offset the costs of camp operations, including meals, room and board, tools, equipment and project management.
Minimum age - high-school age and up
Lutheran Social Services Disaster Response
www.LSSS.org
Contact Information:
Jessica Vermilyea
1717 Tchoupitoulas Street
New Orleans, LA 70130
Cell: 504-376-9121
jessica.vermilyea@lsss.org              (continued)
GULF COAST VOLUNTEER OPPORTUNITIES (continued) October 2010
LOUISIANA
Grace Evangelical Lutheran Church
5800 Canal Boulevard
New Orleans, LA 70124
Phone: 504-482-4994
Mailing address: PO Box 791163, New Orleans, LA 70179
www.gracenola.org/volunteer-groups
Contact Coordinator of Community Development, Caitlin Moen (c) 651-276-1676 or coordinator@gracenola.com
Grace provides an air-conditioned space for sleeping up to 50 people on air mattresses, but is working on some construction plans to accommodate more volunteers. All meals are your responsibility.
Cost – A donation to Grace Evangelical Lutheran Church to offset the cost of the utilities and use of the building and supplies to make your stay as comfortable as possible.
Operation Nehemiah
400 N. Rampart Street, 2nd Floor
New Orleans, LA  70112
www.operationnehemiah.com
Fred Franke, Director
504-782-3337
ffranke@operationnehemiah.com, ffranke@cox.net
There are several housing options ranging from a donation of $8 to $45 per person per day or night.
Projects fall in Four Categories:
1) Individual & Family Projects—although some of these fall in the category of demolition, most deal with every stage of rebuilding.
2) Community Projects—this could be anything to help restore the community.
3) Green Projects—this could be tree plantings, wetlands restoration, and more.
4) Specialty Projects—work with the elderly, youth, at-risk children and homeless.
United Church of Christ
New Orleans, LA
www.ucc.org/volunteer/hurricane/
Recovery efforts in response to Hurricanes of 2005
Please contact the Volunteer Coordinator in New Orleans at 504-258-7306 or ucchurricanerecovery@yahoo.com.
Groups will be housed at churches. Each church is equipped with bunk beds, cots and/or twin size air beds. Groups are responsible for their own meals.
Housing costs - Donation to Host Church, payable on-site.
Cost – $50 per person per week. $10 per person per day if staying less than one week.
Minimum age –16
LOUISIANA
Southern Mutual Help, Association
Southern Mutual Help Association, Inc.
3602 Old Jeanerette Road
New Iberia, LA 70563
Phone: 337-367-3277
Email: smha@southernmutualhelp.org
www.southernmutualhelp.org/
Housing arrangements will be settled before you arrive. You will be in a facility provided by SMHA at no cost to you. If you are staying elsewhere, either because of your preference or because SMHA beds are already full, you cover housing costs. Wherever you are staying, you'll be paying for food including a packed lunch on workdays.
Volunteers under 18 must be accompanied by parents or by other adults responsible for supervising them.
MISSISSIPPI
Camp Victor – HOUSING ONLY
1515 Government Street
Ocean Springs, MS 39564
www.futuresforfamilies.org
Contact Suzie Harvey, Site Director
Office: 228-875-0313
(c) 228-369-0275
sharvey@lesm.org
Your group will be connected with another rebuild program that is still working on the Gulf Coast. (Moravian Disaster Response, (see below) Hope Community Development Agency (see below) or Hands on Mississippi, www.handsonmississippi.org)
Cost – $25.00 per person per day.  This includes housing and meals.
Accepts youth groups in accordance with the camp's youth policy between ages 14-17.
Moravian Disaster Response
Mississippi Mission House
6809 Oakhurst Drive
Ocean Springs, MS 39564
Contact Weldon Harris at 610-504-8209 or wharris3@gmail.com
To view the Mission House calendar go to
http://www.google.com/calendar/b/0/embed?src=bwm.mmh@gmail.com&ctz=America/Chicago
Mark Ebert, Director of Volunteer Ministries, 336-225-3540, mebert@mcsp.org
The Mission House has beds for sleeping 10.  Must cook your own meals.
Cost – A donation is encouraged to offset utilities.
MISSISSIPPI
iaiministries.org
Hope Community Development Agency
East Biloxi Coordination Relief & Redevelopment
www.hopecda.org
Contact Brian Rivers, Volunteer Coordinator
425 Division Street
Biloxi, MS 39530
Office: 228-435-7180
Cell: 228-918-0229
brivers@hopecda.org
Housing at Seashore United Methodist Assembly (see below).
Seashore United Methodist Assembly – HOUSING ONLY
1410 Leggett Drive
Biloxi, MS 39530
Phone: 228-436-6767
www.seashoreassembly.org
E-mail: sumasuma@bellsouth.net
Housing options are a two story brick building with four large rooms on the ground floor, and four large rooms on the second floor.  Each with its own bath area and each room will accommodate 16 persons. A second building, Frazier Hall, is a two story motel building.
When calling SUMA, please mention you are a volunteer.  There are special rates.
Heritage United Methodist Church
4322 Popps Ferry Road
D'Iberville, MS 39540
Phone: 228-392-4288
www.heritageumc2.org
Contact Sheila Gillies at 228-861-6039 or shegill@juno.com.
heritageumc2@cableone.net
Heritage United Methodist is capable of housing up to 50 volunteers at a time.
On your own for meal preparation, bring food and cooks/kitchen help.
Housing costs – no charge, donations accepted to help defray expenses
Minimum age – 15
MISSISSIPPI
Rebuild Lakeshore, a ministry of Lakeshore Baptist Church
Lakeshore Baptist Church – Mailing address:
P O Box 293
Lakeshore, MS 39558
Lakeshore Baptist Church – Street address:
6028 Lakeshore Road
Bay St. Louis, MS 39520 (west of Bay St. Louis and Waveland)
Phone: 228-469-0110
www.lakeshorebaptist.net and www.rebuildlakeshore.com
Pastor: Don A. Elbourne Jr.
Cell phone: 228-671-6315
email: elbourne@lakeshorebaptist.net
Lakeshore can house 150 volunteers on church property in air conditioned mobile bunk houses, military style Quonset huts, and cots in the sanctuary and loft.
Housing costs – no charge, donations accepted to help defray expenses.  Meals included.
No age restrictions.
Back Bay Mission
1012 Division Street
Biloxi, MS 39530
Phone: 228-432-0301
www.thebackbaymission.org
You can reach the Volunteer Coordinator at volunteercoordinator@thebackbaymission.org or by phone 228-432-0301.
Back Bay Mission has a well-known work camping program and is coordinating disaster recovery work groups through that program. Both housing rehabilitation and new building projects are underway.
Housing is in two large air-conditioned 80-foot mobile homes on the Mission campus. Each mobile home has a total capacity of 14 in each. Meals are the responsibility of the group.
Cost - $50 per person per week plus $150 per group with on-campus housing.  Consult volunteer coordinator for additional information about registration cost.
Minimum age – 14. If possible, groups are asked to include adults skilled in home repair.
MISSISSIPPI
Mississippi United Methodist Disaster Response and Katrina Recovery
To help with Hurricane Katrina recovery efforts in Mississippi
Toll-Free Phone Number: 866-435-7091
www.mississippi-umc.org/pages/detail/763
E-mail: disastercenter@meridianumc.org
Katrina Recovery – contact Robert Sharp, Director, 228-234-3387, rsharp@datasync.com
Two camps currently function on the Mississippi Coast.  They are Camp Love, 13183 C John Clark Road, Gulfport and Camp Hope, 13624 Highway 57, Vancleave.
Each of the camps requires a $15.00 donation per day per person to operate the camp.  This figure includes lodging costs and food.
Minimum age – 14
Hancock Housing Resource Center
www.hancockhrc.org
Contact Rick Shepler, Construction Coordinator, Volunteer Coordinator
Office Phone:  228-463-8887
Wk. Cell: 228-344-8129
Cell: 228-365-5588
rsheplersr@gmail.com
rshepler@hancockhrc.org
Rick has a house in Long Beach, MS where volunteers can stay.  It houses approximately 16 volunteers.
Habitat for Humanity Mississippi Gulf Coast
Phone: 228-314-0011 x 310
For other volunteer opportunities in Mississippi go to www.volunteermississippi.org
<< Start < Prev 1 2 3 4 5 6

7

8 9 10 Next > End >>


Page 7 of 11